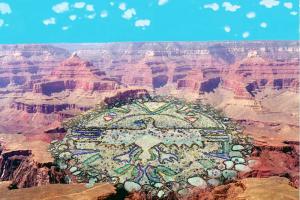 Kyra Belan, Outstanding Artistic Achievement Award Winner, speaker at SECAC

Dr. Kyra Belan, BFA, MFA, EDD, artist and author, and a recipient of the SECAC Outstanding Artistic Achievement Award, has been asked to present at the upcoming SECAC Conference, October 18-20, 2012, sponsored by Meredith College in Durham, NC .
The panel's title is:
The Art of Making: Presentations by Winners of the SECAC Artist Fellowship or the Outstanding Artistic Achievement Award.
Dr. Belan will speak about her Installation art, and the title of her paper/presentation is "Installation Works: Mother Earth, American Beauty."
The panel is scheduled for Friday October 19th, from 9:45 to 11:45 am.
( attached is one digital art image by Kyra Belan, from an installation artwork, and also shown recently at Art Takes Times Square in NY NY)
About SECAC:
Founded in 1942 as a regional conference, today SECAC is a national non-profit organization devoted to the promotion of...