September 16th, 2013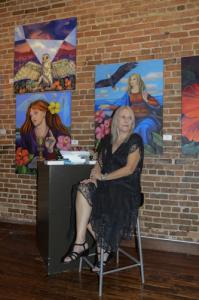 Dr. Kyra Belan is exhibiting her SACRED LADIES series of works at Arts for ACT Gallery downtown Fort Myers during the month of September. These series of paintings, drawings, mixed, or digital works celebrate the legendary female figures through history, from prehistoric to contemporary.
In her Artist's Statement Belan said:
This exhibition is about celebrating the Sacred Ladies that have appeared in the legends and myths of humanity since prehistoric to contemporary times. They are a part of our culture, and deeply affect our perceptions of reality and spirituality.
Beyond these myths, I celebrate the supreme Sacred Lady, our Mother Earth. I hope that this show correctly reflects the beauty of every being that exists on the planet, as we are the children of our Mother.